Next Generation Program
MIT Skoltech Next Generation Program; 2nd Round of NGP Grants
The second call for proposals for the Next Generation Program has yielded in 11 proposals of which eventually 4 have been selected for funding. The annual budget of each project will be up to 12.5 million rubles for the Skoltech portion and $130K (total costs) for the MIT one.
The Skoltech – MIT Joint Next Generation Program (NGP) covers the whole range of academic and institution development activities. That includes research, education, innovation and academic services towards establishing and promoting a mutually beneficial long-term bilateral collaboration between Skoltech and MIT, as well as further development of Skoltech work streams.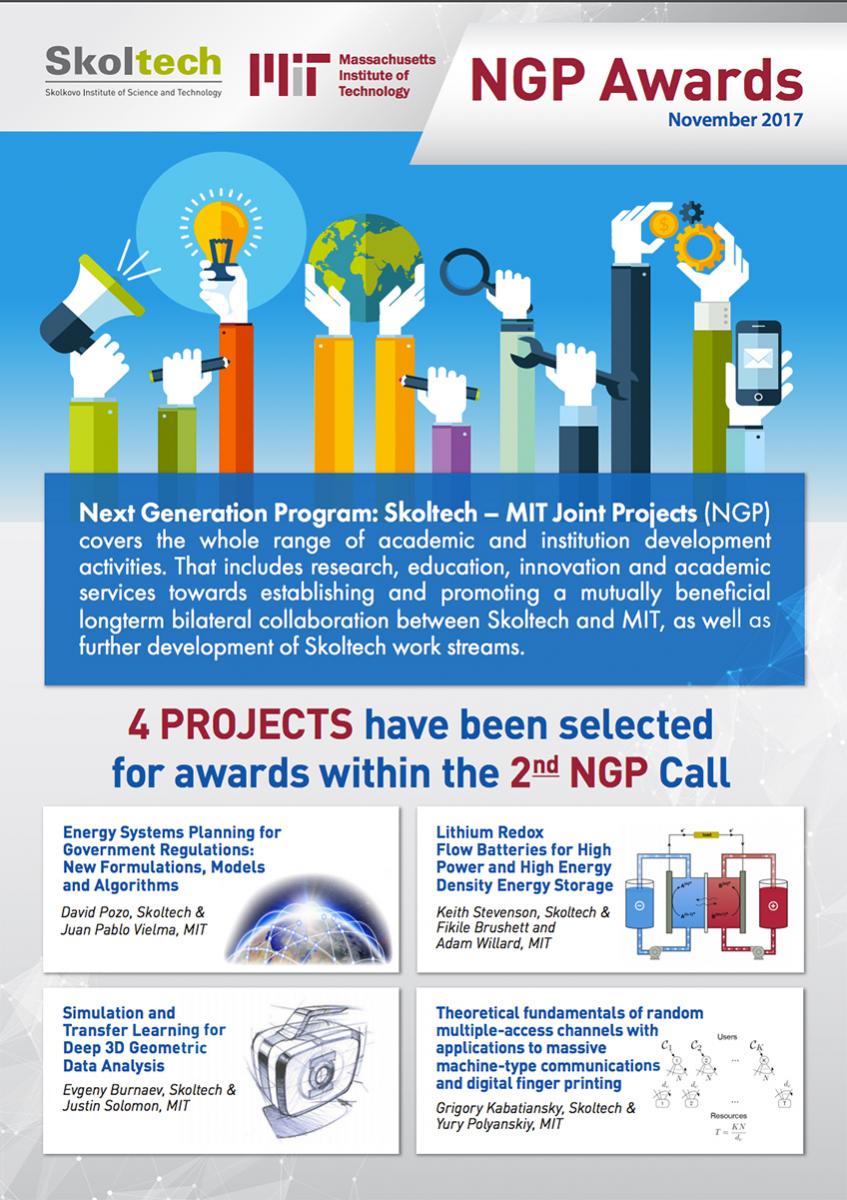 Lithium Redox Flow Batteries for High Power and High Energy Density Energy Storage
MIT PI's: Fikile Brushett, Department of Chemical Engineering; Adam Willard, Department of Chemistry
SkT PI: Keith Stevenson, Center for Electrochemical Energy Storage and Center for Energy Systems 
View abstract >>
Theoretical Fundamentals of Random Multiple-Access Channels with Applications to Massive Machine-Type Communications and Digital Fingerprinting
MIT PI: Yury Polyanskiy, Department of Electrical Engineering and Computer Science
SkT PI's: Grigory Kabatiansky, President's Office; Alexey Frolov, CDISE, loT Laboratory
View abstract >>
Simulation and Transfer Learning for Deep 3D Geometric Data Analysis
MIT PI: Justin Solomon, Department of Electrical Engineering and Computer Science
SkT PI: Evgeny Burnaev, Skoltech Center for Computational Data-Intensive Science and Engineering
View abstract >>
Energy Systems Planning for Government Regulations: New Formulations, Models and Algorithms
MIT PI: Juan Pablo Vielma, Sloan School of Management
Skoltech PI: David Pozo, Energy Systems
View abstract >>
MIT Skoltech Next Generation Program; 1st Round of NGP Grants
The first call for proposals for NGP, in 2015, yielded 23 full proposals for research-driven projects that met evaluation criteria. Following reviews by a panel of nearly 80 international experts and the NGP Steering Committee, 15 proposals have been endorsed and funded.
Regulation of antitumor response via modulation of Ubr‐ubiquitin ligases in vivo
MIT PI: Daniel Anderson, Department of Chemical Engineering
SkT PI: Konstantin Piatkov, Center for Data-Intensive Biomedicine and Biotechnology 
View abstract >>
Search and Development of New Genome Editing Tools for Biomedicine and Biotechnology
MIT PI: Feng Zhang, Department of Brain and Cognitive Sciences
SkT PI: Konstantin Severinov, Center for Data-Intensive Biomedicine and Biotechnology 
View abstract >>
Deep Learning Tools and Algorithms for Cell Image Analysis
MIT PI's: Mark Bathe, Department of Biological Engineering; Anne Carpenter, Whitehead Institute for Biomedical Research
SkT PI: Victor Lempitsky, Center for Computational and Data-Intensive Science and Engineering
View abstract >> 
Carbon nanomaterial manufacturing platforms for interactive surfaces and smart prosthetics
MIT PI's: A. John Hart and Xuanhe Zhao, Department of Mechanical Engineering
SkT PI: Albert Nasibulin, Center for Photonics and Quantum Materials
View abstract >>
Improved stability and performance in highly efficient lead‐free hybrid perovskite solar cells
MIT PI: Tonio Buonassisi, Department of Mechanical Engineering
SkT PI: Pavel Troshin, Center for Electrochemical Energy Storage
View abstract >>
Polaritonics providing a paradigm shift in optoelectronics
MIT PI: Keith Adam Nelson, Department of Chemistry
SkT PI's: Natalia Berloff and Pavlos Lagoudakis, Center for Photonics and Quantum Materials
View abstract >>
3D-printed, miniaturized Cassinian trap mass spectrometer for space research and general ambient analysis applications
MIT PI: Luis F. Velásquez‐García, Microsystems Technology Laboratories
SkT PI: Evgeny Nikolaev, Space Center
View abstract >>
Integration and control of heat and power systems with variable loads
MIT PI: Konstantin Turitsyn, Department of Mechanical Engineering
SkT PI's: Aldo Bischi and Janusz Bialek, Center for Energy Systems
View abstract >>
RecyBot: High-Speed Intelligent Robotic System with Computer Vision for Electronics Recycling
MIT PI: Kamal Youcef-Toumi, Department of Mechanical Engineering
SkT PI: Dzmitry Tsetserukou, Space Center
View abstract >>
Read more about MIT Professor Kamal Youcef-Toumi
Exploring potassium-ion batteries
MIT PI: Yet-Ming Chiang, Department of Material Science and Engineering
SkT PI: Artem Abakumov, Center for Electrochemical Energy Storage
View abstract >> 
Investigations of high-temperature superconductors and other complex quantum materials
MIT PI: Nuh Gedik, Department of Physics
SkT PI: Boris Fine, Center for Photonics and Quantum Materials
View abstract >>
High-Dimensional Uncertainty Quantification: from Component to Systems Design
MIT PI: Luca Daniel, Department of Electrical Engineering & Computer Science
SkT PI: Ivan Oseledets, Center for Computational and Data-Intensive Science and Engineering
View abstract >>
Next Generation Fast Methods for Medical and Nanoscale Technology
MIT PI: Jacob White, Department of Electrical Engineering & Computer Science
SkT PI: Athanasios Polimeridis, Center for Computational and Data-Intensive Science and Engineering
View abstract >>
Quantum materials for superconducting nanophotonics
MIT PI: Karl Berggren, Department of Electrical Engineering & Computer Science
SkT PI: Mikhail Skvortsov, Center for Photonics and Quantum Materials
View abstract >>
Machine Learning Elastic Strain Engineering
MIT PI: Ju Li, Department of Nuclear Science and Engineering
SkT PI: Alexander Shapeev, Center for Computational and Data-Intensive Science and Engineering
View abstract >>